Chinese herbal medicine in Wokingham, Berkshire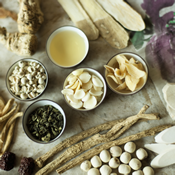 In the UK Chinese medicine refers to Chinese herbal medicine. In Asia, chinese medicine refers to all forms of therapy; acupuncture, herbs, massage (tuina), dietary and lifestyle.
About Chinese herbal medicine
Chinese herbs are made up of leaves, flowers, bark, roots or seeds. They each have a unique action. Cleverly combined together they perform a multitude of tasks and help bring a holistic balance back to the whole body.
All herbs are of the highest quality and are prescribed individually to meet each patient's needs. Chinese herbs are prescribed in powder form. Hot water is added to them then drank. Alternatively you can have them put into tablets or capsules, which has less of a taste.
Chinese herbs are better able to treat chronic health problems than acupuncture. They get to the root of the problem, internally and give you what you are lacking, whereas acupuncture regulates bodily functions, helping it to help itself. In China, people go for herbs first before trying acupuncture.
Our Chinese herbalist
Dr (TCM) Attilio D'Alberto BM (Beijing), BSc (Hons) TCM, MBAcC, MATCM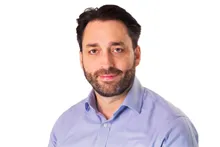 Dr (TCM) Attilio D'Alberto has been practicing Chinese herbal medicine for over 20 years. He is passionate about empowering people with the ancient knowledge of Chinese medicine through knowledge, lifestyle and diet. This knowledge can be used again and again in people's lives and those of their family.
Dr (TCM) D'Alberto graduated with a Bachelor of Medicine from Beijing University of Traditional Chinese Medicine (TCM) in China. This full time, five year degree program included six months internship at two of the largest hospitals in Beijing, China.
Dr (TCM) D'Alberto specialises in fertility and pain but can also help with other health conditions. He is one of the very few Chinese herbalists practising in Berkshire.
Schedule Appointment